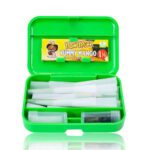 Honeypuff Pre Rolled Cones With Filter Tips (10Pcs), Flavored Rolling Papers, Glass Mouth Tip (2Pack), Plastic Herb Stash Box Case
Honeypuff Pre Rolled Cones With Filter Tips (10Pcs), Flavored Rolling Papers, Glass Mouth Tip (2Pack), Plastic Herb Stash Box Case
$19.99
✔「All-Inclusive Stash Box」 The Flavored Rolling Papers Kit To Meet Your Needs As Much As Possible, The Herb Stash Case Include Different Flavors 78Mm Raw Rolling Papers, 10Pcs 1 1/4 Size Pre Rolled Cones, 2Packs Glass Mouth Filter Tips, Hard Plastic Herb Stash Box.

✔「Points To Pay Attention To」UnbleachedRolling Papers Have a Flavor, And Pre Rolled Cones Are Natural And Original. If You Have Any Problems With Missing Accessories, You Can Contact Us And We Will Solve It Within 24 Hours.

✔「Multiple Choices 」These Unbleached Rolling Paper Are Available In A Variety Of Flavors Chocolate, Mango, Banana, Cherry, Watermelon, Grape, Blueberry, Honey, Strawberry

✔「Flavoring System」 Our Flavored Rolling Papers Using A Proprietary "Triple-Dipped" Flavoring System, Our Fruit Rolling Paper Gives You A Fully Flavored Smoking Experience From Start To Finish.

✔「Flavored Papers 」Let'S Face It: Normal Rolling Papers Are Boring. They All Taste The Same. But What If I Were To Tell You That That'S Another Way? What If I Told You That There's A Better Paper – One That Tastes Better And Stays Nice And Fresh Until You'Re Ready To Roll? Then You'Re In Luck Because That Better Way'S Name Is Honeypuff.
20 in stock